Hi! This will be my first solo story on wikia. I have decided to go for a supernatural/semi-romantic story called 'Walking With the Vampires'. I will try to make it different from 'Twilight', 'Vampire Diaries' etc. Hope you enjoy it!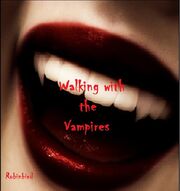 The Story
Edit
Characters
Edit
Ad blocker interference detected!
Wikia is a free-to-use site that makes money from advertising. We have a modified experience for viewers using ad blockers

Wikia is not accessible if you've made further modifications. Remove the custom ad blocker rule(s) and the page will load as expected.